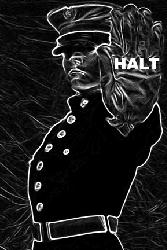 James Brisch
I first met James in my Photo 2 class several semesters ago. It was in that class that I was made aware of his service in Iraq. While we were working in the darkroom one day, James shared a story about how he received his purple heart. (Needless to say we were all impressed.) He called his injury the "Forrest Gump wound" because while he was clearing a home with his platoon, shrapnel  ricocheted several times and hit him in the rear end. (His version of this story was more comical than I could share.) The image that accompanies this article is one of his photos that he created in ART 280, Photo 2.  I asked James if he would answer some questions regarding his service. Here are his answers.
Why did you join the military?
I joined for several reasons. First was I felt it was my duty to serve my country. At a close second, was extra money for college, and the Illinois Veterans Grant (which allows for an honorably discharged Illinois resident to attend any Illinois state funded college for free up to a certain degree level).
How long were you in the military?
I was on active duty for four years, from June 5, 2001 until June 4, 2005. I am currently on what is referred to as Inactive Ready Reserve. This means that I am out of the military but can still be called back into active duty until June 5, 2008.
Why did you leave the military?
Basically my contract with the government expired, and I did not particularly enjoy the majority of my time and experiences in the military.
Why did you decide to attend HCC?
I was to late to register at ISU, and decided that I would take care of my general education at a school that would take me on so close to the beginning of the semester.
How long have you attended HCC and what courses have you taken?
I have been at HCC for two and a half years. I've taken Photography 1-2, Basic Drawing, Psychology 101, my required math and composition courses, and am currently taking Photography 3 and Sociology.
What experience is the most significant from your military service?
I would have to say that combat was the most significant.
Has that experience helped or hindered you in your life at HCC?
A little of both. It has helped me handle the stresses of school a little better, but Post Traumatic Stress Disorder has made me a little jumpy in large groups of people.
What places did you travel to in the military and what were they like?
I have been all over the Pacific area. I was stationed in Hawaii, made several trips to Okinawa, Guam, Tinian, Philippines, South Korea, Kuwait, and Iraq. Hawaii was interesting for the first few weeks, but grew increasingly dull over the next few months. We were stationed on the "bad" side of Okinawa just outside a little town called Kin, which was affectionately and accurately referred to as "Sin-ville." Guam was a breath of fresh air compared to Tinian's muggy lizzard and rat infested jungles. The Philippines was VERY hot and wet. South Korea was cold and extremely rough terrain for the constant training hikes/patrols we conducted there. Kuwait was dry hot and boring. Iraq was cold, damp, and rather unnerving.